Waxing
Whether you're after a leg wax, underarms or a hollywood, waxing is the best, relatively painless semi-permanent hair removal method leaving you hair free for up to 4 weeks! So put down the razor, say goodbye to stubble and ingrown hair and embrace the smooth feeling of freshly waxed skin!
Have a look at our Trez Beauty pricelist to see the variety of waxing we perforamnce.
Tanning
Whether it's legs out weather or the dead of winter, there's something about having glowy bronzed skin that immediately makes you feel better. Haven't got a trip to mediterranean planned anytime soon? Fret not. A spray tan will have even your closest friends fooled that you've been sunning yourself in the South of France!
Perfect if you're prepping for an event, and haven't dared to get your legs out for a while, a Trez Beauty spray tan is designed to temporarily deepen your skin tone, evenly covering your body in a tanning mist that quickly absorbs into your skin leaving you with a healthy bronzed glow from head to toe.
LVL Lashes
LVL stands for Length, Volume, and Lift. The stunning alternative to eyelash extensions! LVL has been designed to enhance your natural eyelashes by straightening them rather than curling to create the illusion of longer, thicker lashes. The treatment takes between 30 and 45 minutes depending on the length and quality of your natural lashes.
With LVL, your results are immediately visible, plus your fabulous new look will last up to 6 weeks. LVL can be a more cost effective, lower maintenance alternative to lash extensions.
Eyebrow and Eyelash Tinting
Eyelash and eyebrow tinting involves carefully dying the lashes or eyebrows with safe, natural tints, to give them a natural, luscious, darker appearance. Many different eyelash and eyebrow tint colours (including blues, browns and blacks) or mix together to create the perfect colour.  Having this done will give you definition, we can complement your skin and hair colouring perfectly.
We now have a very talented Micro blading specialist once a month called Amy. If you are interested please ask Sara or shelley or call the salon on 0208 249 2424, you will need to organise a skin test prior to your appointment.
Micro Blading
We now have a very talented certified Philbrows Artist.
She studied microblading at Philbrows Academy London.
We are lucky enough to get her expertise in our salon once a month on a Tuesday. The treatment is done in two parts it's cost £300, this includes your top up which is usually done a month later once your first session has healed. A skin test is required 48 before and a deposit of £50 must be paid once booked in.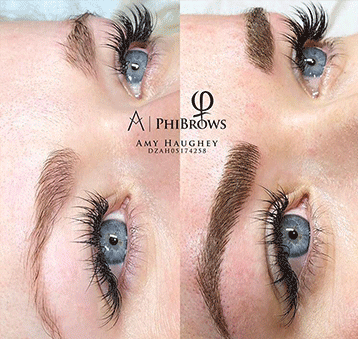 Trez Facials
Express facial 

This express facial is ideal for those on the go. Your skin is cleansed, lightly exfoliated and gently massaged. A pore-refining mask is then applied, followed by a veil of light moisturiser. You will leave feeling refreshed and glowing.
This facial is also great for teenagers.
Prescriptive facial
Prescriptive Facial this treatment is customised at every stage of the facial to ensure it is tailored for each individual.
Cleanse, tone, exfoliate, massage, mask, head massage, steam and extraction. – ideal for problematic skin, includes face mapping.
Deep cleansing facial
Deep cleansing facials use a variety of treatments to clean your face more thoroughly than what other treatments provide. You can expect to have your face steamed to open up the pores an extraction of clogged pores, whiteheads and blackheads; a deep pore cleansing treatment and healing masks to improve the skin's surface and underlying layers.
A deep cleaning facial will help with a smooth Appearance and a more radiant look, and reduce the size of your pours. 
Massages
Hot Stone Massage Hot stones are placed at key points on the body and others are held by the therapist and used to massage the muscles. Hot Stone is a very relaxing treatment.